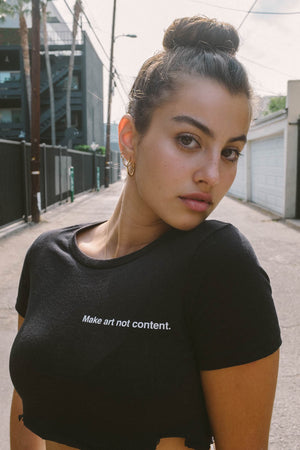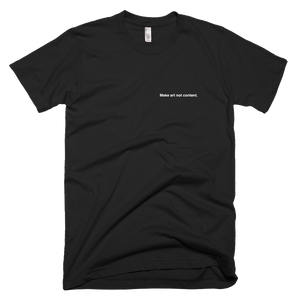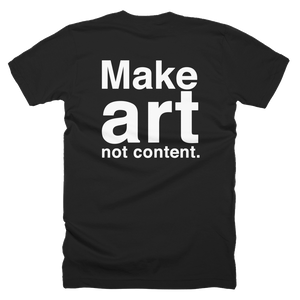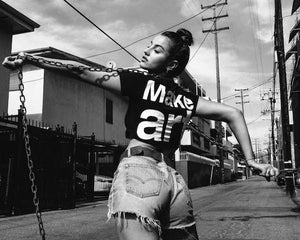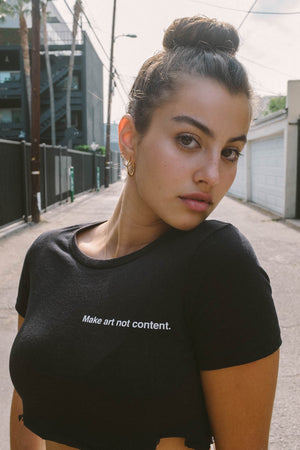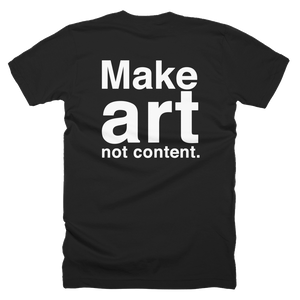 Make art not content. Official T-shirt. (2023)
When I was growing up, my dad would often ask why I wore clothes with logos all the time. "Why are you giving free advertising to a big company that doesn't care about you?" he'd say. A few years later, I realized this criticism had stuck with me. I became anti-logo. Now, if I wear something with words or a design on my body, it has to have meaning. Either I'm supporting a friend, an artist, or it's a symbol of my values, etc.
That's why when I decided to make my first T-shirt, I knew I didn't want to make something for the masses. I wanted to sell clothing to unite "my people". It had to have a message that misfits and renegades could wear proudly.

Choose your size below and join the movement!

Size guide
| | | | |
| --- | --- | --- | --- |
|   | LENGTH (inches) | WIDTH (inches) | CHEST (inches) |
| XS | 27 | 16 ½ | 31-34 |
| S | 28 | 18 | 34-37 |
| M | 29 | 20 | 38-41 |
| L | 30 | 22 | 42-45 |
| XL | 31 | 24 | 46-49 |
| 2XL | 32 | 26 | 50-53 |
| 3XL | 33 | 28 | 54-57 |
| 4XL | 34 | 30 | 58-61 |
| 5XL | 35 | 31 | 62-65 |